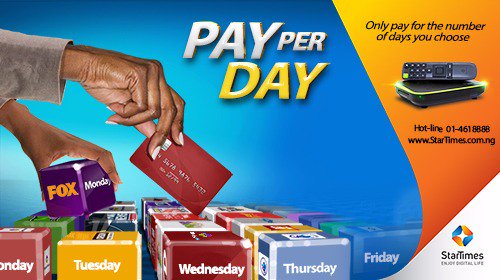 StarTimes Nigeria on Thursday announced the pay per day, pay per week and pay per month subscription options for subscribers across Nigeria. This enables customers watch their favourite channels with as low as N60 per day. Remember, newly launched TSTV promised to implement the per per day subscription, but up till now, they are still struggling to kickstart. This made the announcement by Startimes a welcome idea to Nigerians who have been longing for this.
Earlier Yesterday, Startimes revealed this new development on their official twitter account, and it was welcomed with open arms by the public, and so many social media have been posting positive comments on all social media platforms. The new pay-per-day, pay-per-week and pay-per-month Startimes subscription option will be effective from November 1st 2017.
Startimes once accepted daily subscription of N20 in the year 2015, where users then enjoyed 26+ channels, but it was later stopped. Now, they are coming with something bigger and better with #60 Naira daily and #300 Naira weekly, subscribers can watch over 40 channels; including Italian League, French League 1, German Bundesliga, Chinese League and the world cup football matches.